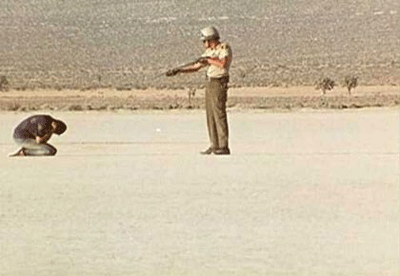 Punishment Park (1971): trailer
And the whole film in its entirety @ YouTube:
1
|
2
|
3
|
4
|
5
|
6
|
7
|
8
|
9
|
10
Punishment Park
overview with Peter Watkins:
1
|
2
|
3
pHinnWeb has already featured
War Game
and
Privilege
, controversial "mockumentary"-type of 1960s films by the British director
Peter Watkins
. Common for Watkins' films were political, dystopian and even apocalyptic themes, critical of mass media, mind control and propaganda, and often taking place in a bleak near-future science fiction setting. Heavily reflecting on the heated political atmosphere of the Vietnam war and the
Kent State massacre
era, his 1971 film follows a group of dissidents who have chosen -- instead of a lengthy jail sentence -- to spend three days in the desert attempting to reach an American flag, as a sort of a survival game, while chased by police and National Guardsmen as part of their field training.