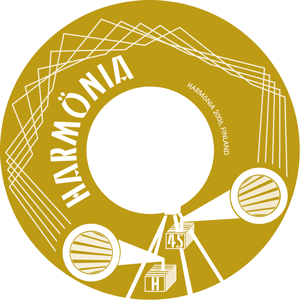 SKANDINAVIAN SKWEEE VOL. 2
(LP, HRMN-4):
another
skweee
compilation from
Harmönia Records
... with Spartan Lover, VC, Mesak, Uday, Daniel Savio, SLA, Randy Barracuda, Claws Cousteau, Eero Johannes and Rigas Den Andre. As Harmönia claims in their press info: "In their flooding cellars these lonely men have gazed upon their reflection, found from their innermost beings something noble and precious and transformed it into art". Harmönia also promises for the Xmas market another LP, called
International Skweee
, presenting skweee from the US, Russia and Britain.
Press release (sorry, Finnish only):

Nyt Harmönia to-del-la teki sen!

SKANDINAVIAN SKWEEE VOL. 2 –LP (HRMN-4)

Kun maan kierto takaperin ryhdyimme edistämään skandinaavisen skweee-musiikin sanomaa, emme olisi yhtiökumppanini kanssa lainkaan uskoneet millaisiin korkeuksiin tämä siipiään kasvatteleva kotka tulisi kohoamaan näin lyhyessä ajassa.

"Skandinavian Skweee Vol. 2." on eittämättä tämän syksyn tärkein pohjoismainen tanssijulkaisu. On suorastaan järkyttävää kuulla näinä esteettisen inflaation päivinä jotain näin tuoretta ja oikeamielistä! Vettä tulvivissa kellareissaan nämä yksinäiset miehet ovat katsoneet kuvajaistaan, löytäneet sisimmästään jotain jaloa ja arvokasta ja muuttaneet sen taiteeksi. Silmänräpäyksen ajan esihistoria koskettaa multasormillaan virtuaalista tulevaisuutta, katsoo kainosti alaviistoon ja hakeutuu paikkaansa. Jos pikkusieluisuudessanne epäilette sanojeni todenmukaisuutta, kuunnelkaapa tältä mestarilliselta levyltä vaikkapa Claws Cousteaun arkkitehtooninen mellakka-crunk "Pikku-Jouni", tahi Daniel Savion tahmeasti tykyttävä goottisoul-helmi "We Call It Skweee".

Skandinavian Skweee Vol. 2 heijastaa myös muotokielellistä sukupolvenvaihdosta skweee-musiikin kentällä. Vaikka levyllä keskeisessä roolissa onkin "komea vitonen", koko skweee-pioneerien kerma, on pääpaino siltikin uusissa kyvyissä, sekä heidän modernissa estetiikassaan. Spartan Lover, VC ja Eero Johannes ovat tietoisesti hylänneet aiemman miespolven näkemykset ja seisovatkin parhaillaan makuuhuoneen oviaukon valokiilassa valmiina suorittamaan isänmurhan.

Veitset välkkyvät yössä, hymy kareilee heidän arpikudoksen peittämillä kasvoillaan. Eikä syyttä. He ovat eittämättä luoneet jotain omaa ja arvokasta. Jos Spartan Lover kirjoittaa partituurinsa epoksiliimalla, säveltää VC teoksensa koneella, jonka käyttötarkoitusta KUKAAN EI TUNNE. Eero Johanneksen "We Could Be Skweeeroes" taasen esittelee kokonaan uuden, epädogmaattisen lähestymistavan aiheeseen, romanttis-viihteellisen skweeen! Eero Johanneksen musiikki on siitä erikoista, että sen tahdissa voi autoilla, kylpeä ja rakastella!

Monasti vanhempi skweee-musiikki aiheuttaa toimintahäiriöitä ja kompleksisia tilanteita arkielämän haasteissa, mutta Eero Johanneksen soidessa kaikki tuntuu ikään kuin "luistavan". On ollut vaivalloista kirjoittaa tästä aiheesta, sillä moninaiset tunteet sumentavat järkeni ja vaivoin suolletut sanani tuntuvat lipsuvan käsistäni. Voisin kuitenkin koko koulukuntamme puolesta todeta: Jos ette usko, että naapurissanne voi tapahtua vallankumous, ei vika ole meissä, se on TEISSÄ. Tai, kuten Shakespeare kirjoittaa: Siis ovat kerjäläisemme tosi-olentoja ja hallitsijamme ja pöyhistelevät sankarimme kerjäläisten varjoja.

Syysterveisin
Team Harmönia

Levyllä esiintyvät: Spartan Lover, VC, Mesak, Uday, Daniel Savio, SLA, Randy Barracuda, Claws Cousteau, Eero Johannes ja Rigas Den Andre. Joulumarkkinoille Harmönialta ilmestyy International Skweee –LP, joka esittelee mm. yhdysvaltalaista, venäläistä ja brittiläistä skweee-musiikkia.