Sparks: 'The Number One Song In Heaven' (@ Top of the Pops)
(1978)
Long version | And even more versions

This one is for Cocó Cielo ("cielo" = "heaven").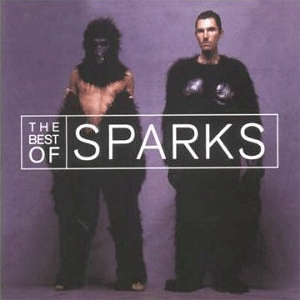 The Best of Sparks compilation has been in my heavy rotation lately, and I seemingly can't get enough of this duo of the Brothers Mael, who started in the age of glam-rock but later gloriously turned coat and paved the way (alongside Suicide) to the whole electronic duo format that proved popular from the 1980s onwards, with such diverse acts as Yello, Soft Cell, Pet Shop Boys, LFO, Orbital, Altern-8, Coil, Pan sonic... you name it.

Actually this German collection covers only the years 1971 - 1984; their huge 1974 hit 'This Town Ain't Big Enough For Both of Us' is naturally included, but here the emphasis seems to be on their later electronic output (featuring some gems from Sparks' less known albums), including their excellent late 70s singles (such as 'Heaven...' above) they created together with legendary (oops, that word again, but I guess it can't be avoided here) Giorgio Moroder. Such albums as the wonderful Indiscreet (1975) are not covered here, nor is their latest output, so I think there's at least some potential for a more definitive "Best of" as a 2-CD (or a box set; with over 20 albums made in over 35 years, there's a lot to cover). Well, I guess I could rave on and on about them, but more perhaps later on...