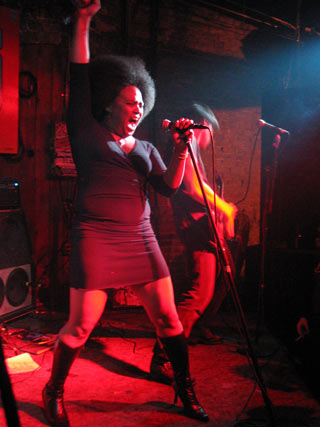 Last night I checked out at
Yo-Talo
the tour package of The Bellrays (US), The Flaming Sideburns (FIN) and The Cool Kleps (FRA), promising a no-holds-barred rock'n'roll jamboree.
The night was kicked off by the
Cool Kleps
from France; looking to me first like a boy-girl duo à la White Stripes: a guy strumming guitar and a lady on drums, except in this particular case she played a combo of keyboards and kick drum. Not bad, all in all, though the first "warming-up" act's slot is always ungrateful. They played among all Gene Vincent's 'Be Bop-A-Lula' and Van Morrison/Them's 'Gloria'.
Then it was time for
The Flaming Sideburns
, whose earlier gigs I always remember as near-religious events in the spirit of The Stooges, MC5 and
60s garage rock
, so I was pretty interested to see in what shape they were today. Being also here in Finland the most well-known of evening's acts, they had managed to draw in their regular hefty bunch of people and fans wearing The Flaming Sideburns T-shirts. The band henchman, tiny Eduardo Martinez had grown a beard, which emphasized his status as an Iggy Pop-style of rock'n'roll wildman. And The Flaming Sideburns rawk'n'rawlled pretty nicely this time too, doing again their old audience-to-their-knees-routine, though perhaps this time the band did not get my sideburns flaming quite in the same amount as some of their yesteryear gigs did. -- After the gig, I dropped by in the backroom and gave
Kompleksi
's 7" to the band's drummer Jay Burnside (a.k.a. Jarkko Jokelainen, working as a music journalist as his day job).
The Bellrays
were awesome! I didn't know beforehand anything about the band, so I have to say I was positively surprised by their music they call "maximum rock'n'soul", taking their cues from MC5, Parliament, James Brown, Aretha Franklin, Tina Turner, The Stooges, 60's R&B, and The Who: sounding like a combination that just can't miss, huh?
A band consisted of a bespectacled bass player Bob Vennum, looking like the guy out of REM, guitarist Tony Fate, and a drummer whose name I'm yet to find out but who was, with another big afro of the night, a lookalike of MC5's Rob Tyner.
Very first, though, my attention was caught by the black woman vocalist, not too tall but wearing stiletto heels and the most absurdly hugest afro I've ever seen. And we found out this mama is not someone to mess with. A foul-mouthed scary African voodoo queen, who was a powerhouse of energy; bringing in the welcomed soul element that is usually missing from your normal punk bands of snotty white-ass boys. Now I understand why all these suburban white 200-miles-per-hour rock acts normally leave me cold: you can pogo like a Mexican bean on amphetamine, scream and shout your ass off about anarchy, self-destruction, how society sucks and whatever, but your act will remain ultimately bland if you miss that soul, that "blackness" (hoping not to fall into these racial stereotypes but I can't find a better word now).
She -- called Lisa Kekaula as I found later on from
the band's website
-- worked the room with the intensity I've only seen with someone like
Peaches
. No wonder it was she who substituted for the late Rob Tyner when the remaining MC5 members were gigging lately. (The picture above is not from the Yo-Talo gig, but it gives you an impression of how she looked like.)
"ARE YOU READY?", she kept asking us white-motherfuckers-with-no-clue, again and again. Hell if we knew if we were ready or not, but she probably wouldn't have taken "no" as an answer. A combination we see unfortunately so rarely, a black diva on punk, Lady Lisa Kekaula ruled supreme; if she would have asked me to kiss her feet, I would have done that without hesitation. At one moment, one poor white rawk'n'rawl boy jumped up and stagedived, only to be scolded by the mistress immediately: "Never, NEVER do that again!" You'd have been a suicidal fool not to believe her. She also kept whipping up the coolly observing back-row audience, who were probably scared out of their wits subsequently: you had to participate or leave.