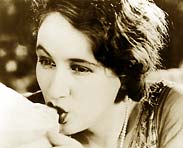 Here is a treat for all you culture vultures:
[forwarded message]
__ U B U W E B __
ubu.com
----------------------------
RELAUNCH :: Fall 2005
----------------------------
A Bump in the Road: After a long summer of rebuilding, UbuWeb is back. Thanks to all our viewers who kindly encouraged our return. We'd also like to thank our new partners for making it all possible: WFMU, PennSound, The Center for Literary Computing, and Artmob. With our expanded bandwidth and storage space, you'll find a wealth of new media files, particularly in our Sound and Film sections (see below).
--- RECENT FEATURES ---
UbuWeb Films: UbuWeb now hosts over 150 avant-garde films in various formats for download by:
Kenneth Anger
, Samuel Beckett, Jordan Belson, Joseph Beuys, Robert Breer, James Broughton,
Luis Buñuel
, John Cage, Raashan Roland Kirk, Henri Chopin, Rene Clair, Guy Debord, Marcel Duchamp Viking Eggeling, Ed Emshwiller, Oskar Fischinger, FluxFilms, Robert Frank, Ernie Gehr, Henry Hills, Isidore Isou, Joris Ivens, Ken Jacobs, Dimitri Kirsanov, Peter Kubelka, George Landow, Fernand Leger, Len Lye, Gregory Markopoulos, Jonas Mekas, Laszlo Moholy-Nagy, Robert Morris & Stan VanDerBeek, Otto Muehl, Yoko Ono and John Lennon, Nam June Paik, Artavazd Pelechian, Robert Rauschenberg, Man Ray, Hans Richter, Walter Ruttmann, Carolee Schneeman, Richard Serra, Situationist International, Harry Smith, Jack Smith, Kiki Smith, Robert Smithson, Michael Snow, Ladislaw Starewicz, Ralph Steiner, Franciszka and Stefan Themerson, Edgard Varêse and Le Corbusier, Dziga Vertov, Rene Vienet, and James and John Whitney, amongst others. (SEE OUR FULL LIST BELOW)
Music With Roots in the Aether: A seminal series of interviews and performances concieved and realized by Robert Ashley in 1976, consisting of 14 hours worth of video and audio. Subjects and performers include: David Behrman, Philip Glass, Alvin Lucier, Gordon Mumma, Pauline Oliveros, Terry Riley, and Robert Ashley. Robert Ashley says: Music with Roots in the Aether is a series of interviews with seven composers who seemed to me when I conceived the piece-and who still seem to me twenty-five years later-to be among the most important, influential and active members of the so-called avant-garde movement in American music, a movement that had its origins in the work of and in the stories about composers who started hearing things in a new way at least fifty years ago."
The Charlotte Moorman Archive: UbuWeb is proud to host the audio archive of Charlotte Moorman (1933-1991), containing hours worth of unreleased works and collaborations by Nam June Paik, John, Cage, Earle Brown, Karlheinz Stockhausen, Terry Jennings, Toshi Ichiyanagi, Jackson Mac Low, David Behrman, La Monte Young, Sylvano Bussoti, George Brecht, Dick Higgins, Giuseppe Chiari and others. The
selection is curated by Stephen Vitiello, with special thanks to Barbara Moore / Bound & Unbound.
People Like Us: The Complete Recordings 1992-2005 UbuWeb now hosts the complete works of the UK-based People Like Us. The brainchild of Vicki Bennett, these hundreds of MP3s feature solo works and collaborations with Matmos, Negativland, Wobbly, The Evolution Control Committee, Ergo Phizmiz, Irene Moon, The Jet Black Hair
People, Xper. Xr., Messer Chups, Kenny G and Tipsy.
Christof Migone: Montréal-based Migone is a multidisciplinary artist and writer. His work and research delves into language, voice, bodies, psychopathology, performance, video, intimacy, complicity and endurance. UbuWeb is pleased to present an audio retrospective of Migone's work, both solo and with collaborators. Also featured here
are numerous writings by Migone, including a book-length work, La première phrase et le dernier mot, which is comprised of the first sentence and the last word of every book in Migone's library.
Fall 2005 :: NEW ADDITIONS
Samuel Beckett Film, 1965, 170.0 mb (MPEG)
Glenn Gould Radio Broadcasts and Radio Plays, 1967-1981, MP3
Furious Pig I Don't Like Your Face (1980) MP3
Michael Snow Sinoms (1989) MP3
Derek Beaulieu an afterword after words: notes towards a concrete poetic
(PDF)
Group Ongaku Music of Group Ongaku, 1960-1961 (Takehisa Kosugi, Syuko
Mizuno, Mieko Shiomi, Yasunao Tone), MP3
John Cage & Raashan Roland Kirk Sound, 1966, 309 mb (AVI)
Öyvind Fahlström Manipulate The World! (1963) and The Holy Torsten
Nilsson (1966) MP3
Lasry-Baschet Chronophagie "The Time Eaters" (mid-1960s) MP3
Mairead Byrne Some Differences Between Poetry & Stand-up Comedy, 2004
(PDF)
Carlfriedrich Claus Lautaggregat (1995) MP3
DJ Food Raiding the 20th Century - Words & Music Expansion (starring
Paul Morley and a cast of thousands) (MP3)
John Lennon & Yoko Ono Erection, 1971, 180.7 mb (MPEG)
U B U W E B :: Films
Kenneth Anger
Invocation Of My Demon Brother, 1969, 133.8 mb (AVI)
Invocation Of My Demon Brother, 1969, 110.0 mb (MPEG)
Kustom Kar Kommandos, 1965, 17.1 mb (AVI)
Lucifer Rising, 1970-1981, 321.6 mb (AVI)
Puce Moment, 1949, 42.7 mb (AVI)
Scorpio Rising, 1949, 194.8 mb (AVI)
Eaux D'artifice, 1953, 109.4 mb (AVI)
Samuel Beckett
Film, 1965, 170.0 mb (MPEG)
Jordan Belson
Allures, 1961, 46.0 mb (AVI)
Joseph Beuys
Sonne Statt Reagan, 1982, 4.0 mb (MOV)
Robert Breer
A Man And His Dog Out For Air, 1957, 19.2 mb (MPEG)
James Broughton
This Is It, 1971, 174.5 mb (AVI)
The Gardener of Eden, 1981, 149.1 mb (AVI)
Luis Buñuel
Un Chien andalou, 1929, 322.9 mb (AVI)
Un Chien andalou, 1929, 156.1 mb (MPEG)
John Cage
4'33", BBC, 2004, 38.5 mb (MOV)
John Cage and Raashan Roland Kirk
Sound, 1966, 309.0 mb (AVI)
Henri Chopin
Henri Chopin at Home, undated, 13.9 mb (MOV)
Henri Chopin Performance, undated, 19.3 mb (MOV)
Rene Clair
Entre'act 1924, 249.8 mb (AVI)
Guy Debord
In Girum Imus Nocte Et Consumimur Igni, Part 1, 1978, 345.3 mb (MPEG)
In Girum Imus Nocte Et Consumimur Igni, Part 2, 1978, 580.6 mb (MPEG)
Refutation of All Judgments, 1975, 217.1 mb (MPEG)
Society of the Spectacle, Part 1, 1973, 456.3 mb (MPEG)
Society of the Spectacle, Part 2, 1973, 422.9 mb (MPEG)
Marcel Duchamp
Anemic Cinema 1926, 26.1 mb (AVI)
Viking Eggeling
Symphony Diagonale 1924, 16.5 mb (AVI)
Ed Emshwiller
Sunstone, 1979, 17.8 mb (AVI)
Thanatopsis, 1962, 37.3 mb (AVI)
Oskar Fischinger
Allegretto 1943, 20.3 mb (MPEG)
Komposition In Blau 1935, 36.8 mb (MPEG)
Motion Painting Screener 1947, 87.6 mb (MPEG)
Muntz TV Commercial 1952, 14.0 mb (MPEG)
Studie Nr. 6 1930, 3.3 mb (MPEG)
Studie Nr. 7 1931, 3.5 mb (MPEG)
Studie Nr. 9 1931, 43.5 mb (MPEG)
FluxFilms
[Please note that all FluxFilms are in the MPEG format.]
01: Nam June Paik - Zen For Film (1962-64), 141 mb
02 Dick Higgins - Invocation of Canyons and Boulders (1966), 5 mb
03 George Maciunas - End After 9 (1966), 12 mb
04 Chieko Shiomi - Disappearing Music for Face (1966), 115 mb
05 John Cavanaugh - Blink (1966), 25 mb
06 James Riddle - 9 Minutes (1966), 113 mb
07 George Maciunas - 10 Feet (1966), 6 mb
08 George Maciunas - 1000 Frames, (1966) 6 mb
09 Yoko Ono - Eye Blink (1966), 7 mb
10 George Brecht - Entrance to Exit (1965), 70 mb
11 Robert Watts - Trace #22 (1965), 33 mb
12 Robert Watts - Trace #23 (1965), 32 mb
13 Robert Watts - Trace #24 (1965), 16 mb
14 Yoko Ono - One (1966), 51 mb
15 Yoko Ono - Eye Blink (1966), 10 mb
16 Yoko Ono - Four (1967), 58 mb
17 Pieter Vanderbeck - Five O'Clock in the Morning (1966), 55 mb
18 Joe Jones - Smoking (1966), 54 mb
19 Erik Andersen - Opus 74 Version 2 (1966), 17 mb
20 George Maciunas - Artype (1966), 29 mb
22 Jeff Perkins - Shout (1966), 23 mb
23 Wolf Vostell - Sun in Your Head (Television Decollage) (1963), 73 mb
24 Albert Fine - Readymade (1966), 34 mb
25 George Landow - The Evil Faerie (1966), 4 mb
26 Paul Sharits - Sears Catalogue 1-3 (1965), 8 mb
27 Paul Sharits - Dots 1 & 2 (1965), 7 mb
28 Paul Sharits - Wirst Trick (1965), 6 mb
29 (unnumbered) Paul Sharits - Unrolling Event (1965), 2 mb
29 Paul Sharits - Word Movie (1966), 39 mb
30 Albert Fine - Dance (1963), 30 mb
31 John Cale - Police Car (1966), 15 mb
36 Peter Kennedy & Mike Parr - Flux Film 36 (1970), 27 mb
37 Peter Kennedy & Mike Parr - Flux Film 37 (1970), 17 mb
38 Ben - Je ne vois rien, je n'entends rien, je ne dis rien (1966), 77 mb
39 Ben - Le Traversee du port de Nice a la nage (1963), 34 mb
40 Ben - Faire un effort (1969), 25 mb
41 Ben - Regardez-moi, cela suffit (1962), 70 mb
Robert Frank
Pull My Daisy 1959, 188.8 mb (AVI)
Ernie Gehr
Serene Velocity 1970, 149.8 mb (AVI)
Henry Hills
Gotham, 1990, 6.9 mb (MOV)
Kino Da, 1981, 5.6 mb (MOV)
Money, 1985, 47.2 mb (MOV)
Radio Adios, 1982, 34.3 mb (MOV)
Isidore Isou
Venom and Eternity 1951, 763.2 mb (MPG)
Joris Ivens
Regen 1929, 160.0 mb (AVI)
Ken Jacobs
Blonde Cobra 1963, 438.9 mb (AVI)
Raashan Roland Kirk and John Cage
Sound, 1966, 309.0 mb (AVI)
Dimitri Kirsanov
Menilmontant 1924-25, 350.0 mb (AVI)
Peter Kubelka
Unsere Afrikareise 1966, 50.4 mb (WMV)
George Landow
Remedial Readingprehension 1970, 56.4 mb (AVI)
Fernand Leger
Ballet Mécanique 1924, 52.0 mb (AVI)
Len Lye
A Color Box 1935, 30.5 mb (AVI)
Free Radicals 1958, 27.4 mb (AVI)
Particles in Space 1966, 21.6 mb (AVI)
Rainbow Dance 1936, 39.7 mb (AVI)
Trade Tattoo 1937, 54.3 mb (AVI)
Gregory Markopoulos
Sorrows 1969, 150.0 mb (AVI)
Jonas Mekas
Hare Krishna 1966, 99.9 mb (AVI)
Laszlo Moholy-Nagy
Lightplay: Black-White-Grey (excerpt) 1932, 99.9 mb (MOV)
Robert Morris & Stan VanDerBeek
Site (excerpt) 1964, 19.2 mb (MOV)
Otto Muehl
Manopsychotisches Ballett, Part 1 1970, 141.1 mb (AVI)
Manopsychotisches Ballett, Part 2 1970, 72.1 mb (AVI)
Yoko Ono and John Lennon
Erection 1971, 180.7 mb (MPEG)
Nam June Paik
Electronic Moon No. 2 1969, 38.1 mb (MP4)
Videotape Study No. 3 1969, 31.1 mb (AVI)
Artavazd Pelechian
Les habitants 1970, 85.0 mb (AVI)
Robert Rauschenberg
Linoleum (excerpt) 1967, 27.8 mb (MOV)
Man Ray
Emak Bakia 1926, 313.8 mb (MPEG)
Le Retour à la raison 1923, 46.2 mb (MPEG)
L'Étoile de mer 1928, 277.4 mb (MPEG)
Hans Richter
Everything Turns Everything Resolves 1929, 31.5 mb (AVI)
Filmstudie 1925, 32.3 mb (AVI)
Rhythm 21 1921, 6.5 mb (MOV)
Ghosts Before Breakfast 1928, 60.5 mb (MPEG)
Rennsymphonie 1929, 138.6 mb (MPEG)
Rhythmus 23 1923, 58.3 mb (MPEG)
Zweigroschenzauber 1929, 47.4 mb (MPEG)
David Rimmer
Variations On A Cellophane Wrapper 1971, 149.2 mb (AVI)
Walter Ruttmann
Lichtspiel Opus I-4 1971, 34.3 mb (AVI)
Carolee Schneeman
Fuses 1965, 217.9 mb (MPEG)
Richard Serra and Carlotta Schoolman
Television Delivers People 1973, 98.3 mb (AVI)
Situationist International
On The Passage of a Few Persons Through a Rather Brief Period of Time
undated, 432.9 mb (AVI)
Harry Smith
Early-Abstractions 1941-57, 496.3 mb (MPEG)
Heaven-and-Earth-Magic 1950-1960, 667.4 mb (MPEG)
Late-Superimpositions 1963, 285.8 mb (MPEG)
Jack Smith
Flaming Creatures 1963, 390.8 mb (AVI)
Normal Love 1963, 704.7 mb (AVI)
Scotch Tape 1963, 70.1 mb (AVI)
Kiki Smith
Jewel (excerpt) 1997, 31.3 mb (AVI)
Robert Smithson
Spiral Jetty (excerpts) 1970, 23.9 mb (AVI)
Michael Snow
Prelude 2000, 25.8 mb (AVI)
Presents 1981, 772.8 mb (AVI)
Ladislaw Starewicz
The Cameraman's Revenge 1912, 143.2 mb (AVI)
The Insect's Christmas 1913, 51.6 mb (AVI)
Ralph Steiner
H20 1929, 99.1 mb (MPEG)
Franciszka and Stefan Themerson
The Eye and the Ear 1944, 97.1 mb (AVI)
Edgard Varêse and Le Corbusier
Poême électronique 1958, 84.2 mb (MPEG)
Dziga Vertov
Kino Eye 1924, 699.9 mb (AVI)
Three Songs About Lenin 1934, 700.0 mb (AVI)
Rene Vienet
The Girls of Kamare, Part 1 1974, 440.5 mb (MPEG)
The Girls of Kamare, Part 2 1974, 431.9 mb (MPEG)
James Whitney
Lapis 1966, 131.3 mb (AVI)
James and John Whitney
Five Film Exercises 1943-44, 83.4 mb (AVI)
Zubi Zuva
X Suite Europe Live undated, 40.3 mb (AVI)
----------------------------
RELAUNCH :: Fall 2005
----------------------------
UBUWEB IS ENTIRELY FREE
__ U B U W E B __
ubu.com