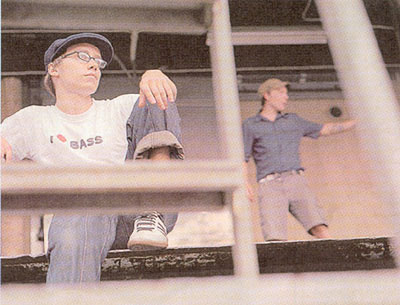 Helsinki electro act Imatran Voima has a new album out on Glasgow's Might Robot Recordings; supposedly being a concept album dedicated to Finnish welfare state...
-----
Artist: Imatran Voima
Title: Welfare State Of Mind
Label: Mighty Robot Recordings
Catalogue no.: MRR 00000005 CD / MRR 00000005 LP
Format: CD / 2x12" Ltd. Edition Album
Country: UK
Released: 19 March 2007
Genre: Electronic
Style: Electro, Ghetto
Credits: Artwork By - Anti-Limited, Juhana Tainio
Mastered By - Ra-X
Producer - Imatran Voima
Written by - Fresh O Lex, Randy Barracuda
CD tracklisting:
1 Welfare State Of Mind (7:14)
2 Intoxication (4:56)
3 Comedown (3:30)
4 Wanna Get Hi' (5:06)
5 Nuttin' But Leechin' (5:23)
6 Lok Da Groove (4:48)
7 Paracity (10:28)
2x12" tracklisting:
A1 Welfare State Of Mind (7:14)
A2 Välisoitto (4:18)
B1 Intoxication / Comedown (8:27)
B2 Wanna Get Hi (5:06)
C1 Nuttin' But Leechin' (5:23)
C2 Lok Da Groove (4:48)
D Paracity (10:28)
Vinyl notes: 525 copies.
A-side run-out groove reads "93rd, Damn All That Eagerness".
C-side run-out groove reads "This Machine Kills Fascists".
http://www.discogs.com/release/905874
http://www.discogs.com/release/905670
Imatran Voima: official site
Randy Barracuda of Imatran Voima @ MySpace
Mighty Robot Recordings: official site
Mighty Robot Recordings @ MySpace
------
Also Imatran Voima-related is this new compilation record
Skandinavian Skweee Vol.1.
on Turku's
Harmönia Records
:
Various Artists
Skandinavian Skweee Vol.1. (LP)
HRMN-03
April 2007
tracklist:
This side:
Den Rigas Andre: Wedge
Mesak: Popkumm
Boyz of Caligula: Nazi Tiger
Claws Cousteau: Collosseummm
SLA: Symbionese Hive
That side:
Limonious: Hotel Coral Essex
Paltazar: Plong Weeeks
Randy Barracuda and the Techno Funk 5: Lajinsa Viimeinen
PJVM: Rubarb Dream
Press release notes:
The leading skwee record label in Finland does it again! The compilation album
Skandinavian Skweee Vol. 1.
, out early April 2007, is a breathtaking sampler of the cream of Scandinavian synthesizer music. This Scandinavian music style -- also noticed in the United States and Central Europe -- will keep growing and delight the open-minded music lovers with its unadorned electronic soundscapes.
The record is opened by the retarded cosmic funk of the Uppsala nobleman
Den Rigas Andre
. His work called 'Wedge' is an unadorned plunge into the world of oscillator melancholy, erotically flanked by the beat of iron pulse in the background. Performing after Rigas,
Mesak
is known as the more boyish member of the
Mr Velcro Fastener
duo. 'Popkumm' found from this compilation is definitely one of the most essential works of his solo career; a piece where the Eastern pop influences are assimilated into glimpse-like memory fragments of the youth constituted by techon rave parties and game arcades. The same hit track can also be found on the skwee compilation
Museum of Future Sound
of Swedish Flogsta Danshall label.
On the third track of the album,
Boyz of Caligula
are presenting their psychedelic proto-electro. Having had their origins as the background band of
Caesar
, the duo has momentarily switched their traditional acid house to the clumsily funking space groove. The track 'Nazi Tiger' has also been licensed for the forthcoming
Electronic Helsinki
compilation featuring sleeve art designed by Paola Suhonen (she is a famous one).
The rap artist
Claws Cousteau
of
Ronskibiitti
posse is the real black horse of this compilation. 'Kolossseummm' floats in all its abstractedness through the world of antiquity like a cosmic melting ray which mercilessly turns the statues of Venus and Hellenic temples into formless plasma. Following Cousteau, the first side is finished by the track 'Symbionese Hive', courtesy of
Janni Kestilä
, of
Memmy Posse
and
Imatran Voima
fame. The track of Kestilä, performed under his
SLA
alias can with no problems be called with the unofficial term "cosmic R'n'B", including both a Vangelistic composition and a geometrically rolling rhythm pattern. It's an excellent piece!
The flipside of the compilation is started by another skweee pioneer from Uppsala, called
Limonious
, also remembered as the producer of the gigantic reggae group
Moder Jords Massiva
. Thanks to its airy calypso groove, 'Hotel Coral Essex' is fresh like a scent from the armpit of
Prince
in April.
After this, his own skweee knowledge is presented on the track 'Plong Weeeks' by
DJ Paltazar
of Turku. As a dedicated connoisseur of intelligent music, he has picked his influences from
Harold Faltermayer
and
LFO
, creating as a result some chillingly sterile Scandinavian rhythmic music! The official skweee ambassador of Helsinki and Rotterdam,
Randy Barracuda
dedicates his track 'Lajinsa viimeinen' ("The last of its species") to those species "shelved" by evolution. Accompanied by the epic techno of Mr. Barracuda, the master vocalist
Michael Black Electro
(
Ceebrolistics
,
Helsinki Ghetto Bass Patrol
) interprets the last thoughts of an extinct species. In the track, Mr. Barracuda is assisted by his new background band
Techno Funk 5
.
The MPC master
PJVM
, who recently published his debut album, finishes the album with his leftfield skwee. 'Rubarb Dream', which has also been licensed to a compilation by Flogsta Danshall, keeps fluctuating between atonal howls and "jacket funk" à la Seinfeld until finally collapsing into its own absurdity. Most important tracks of the year.
So, here's
Skandinavian Skweee Vol. 1
in the nutshell. Except for some yelps and pants the album doesn't contain any lyrics but is, skweee's mainstream usually is, totally instrumental.
The advantage of instrumental music for the consumer is that the living musical experience is not stiffly chained to the song lyrics, but an observing individual can always create his/her own INTERPRETATION
.
"Skweee was a real enlightenment to me. There is something really new in Skweee."
–T.A. Kaukolampi/ And The Lefthanded.
Watch the music video featuring music from this compilation:
Mesak: 'Popkumm' @ YouTube
Background info on skweee:
Skweee @ Wikipedia
Nation of Skweee
Some forthcoming skwee shows:
20 April 2007 - Mesak, Tallinn, Estonia
21 April 2007 - Mesak, Tartu, Estonia
? June 2007 - Randy Barracuda + guests, Siinä Tyylissä Oli Tyyliä festival, Helsinki, Finland
1 September 2007 - Boyz of Caligula + Claws Costeau, Sähköjänis 3, Pieksämäki, Finland