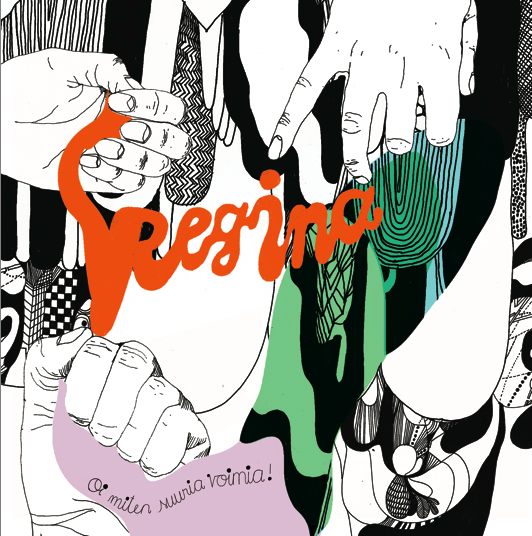 Finnish synthpop/indie act Regina has their new album
Oi miten suuria voimia
(translation: "Oh, how large powers", perhaps) out now. Regina's debut
Katso maisemaa
("Look at the landscape", 2005) raised some interest in Finnish music media (also a bit abroad, in places like Japan) and also created a domestic fanbase for this act consisting of vocalist Iisa Pajula, keyboardist/producer Mikko Pykäri and drummer Mikko Rissanen, though Iisa's vocalisations also divided opinions among some people. In any case, it will be interesting to see if Regina's popularity will stand the test of that always "difficult second album".
Artist: Regina
Title: Oi Miten Suuria Voimia!
Label: Next Big Thing
Cat.No: NEXTCD006
Format: CD/LP
Country: Finland
Released: 21 Mar 2007
Genre: Electronic
Style: Synth-pop
Tracklisting:
1 Paras Aika Vuodesta
2 En Tiennyt Osaavani Tanssia
3 Tässä Vaiheessa Kaikki On Jo Niin Vakavaa
4 Naapurissa Puretaan Taloa
5 Kuka On Tuo Mies?
(featuring Tuomo Kuusi of
Boys of Scandinavia
)
6 Päivä Järvellä
7 Suuria Voimia!
8 Vesisadetta, Vaihtelevaa Pilvisyyttä
9 Soitan Sulle Sittenkin
10 Tumma Tuokio
Discogs entry
Record release tour:
Helsinki:
21.03.07 /// Kuudes linja
(tickets 7€; with DJ Halo, Dj Dallas)
Turku:
30.03.07 /// Thessalonik, Päiväkoti
Tampere:
31.03.07 /// Indie Lördag/Hang the Indie, Yo-Talo
(tickets 6€, after the gig 3€; show 22.30; with DJs Sami & Antti H.)
Helsinki:
19.04.07 /// Polte-klubi, Vanha
Helsinki:
28.04.07 /// Korjaamo
Oulu:
05.05.07 /// B-eat-z, 45 Special
Turku:
19.05.07 /// Ladyfest
Regina performing 'Katso maisemaa' @ Provinssirock 2006
Links:
Regina introduction @ Next Big Thing
Regina: Official site
Listen to Regina @ MySpace
Regina: "Suuria voimia" blog
Regina @ Discogs