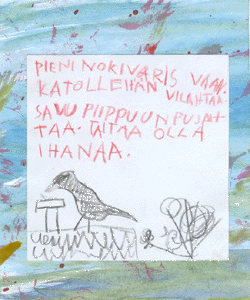 Mutant Sounds
now mentions and offers downloads of
Tididii Tididii Tididiididii
(
LTJ-05/06
), a 2003 release on Hannu Haahti's CD-R label
267 Lattajjjaa
. With 160 minutes of music from psychedelic folk to improvisation to electronic noodlings, this compilation was like a Who's Who of Finnish underground music scene of the time, with some international guest stars included too.
And oh, yours truly and his mighty(?) Yamaha Portasound can be heard there also, as part of No Scene (Disc 2, track 25: '230801'): the track is an electronic-ish improvisation jam taped at No Scene club in August 2001 at Tampere's Telakka.
No Scene was another sadly short-lived electronic music club, run by American ex-pat and electronic musician
Nathan Siter
who lives here in Tampere (check his 12" on German label Zhark). I recall the people playing on the track were at least Nathan, Joonas of
Toiminto
, Perttu Piirto of
Ever Had
(another criminally underrated Tampere electronic musician!) also playing Syd Barrett-like electric guitar there, pHinn and some other people (including a female vocalist) whose names elude me now. This ensemble consisted of different artists and DJs playing at the club, who gathered together at the end of the night to do this jam session, on a "free-for-all" basis. Because I remember the pained expressions on some punters' faces who had to listen to our extended improvisation... To save your own nerves, the track is edited for the compilation.