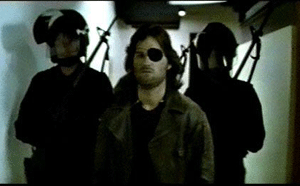 ... can be found
here
. Sorry elitists, no cool limited edition 12"s this time, either; have no money, so again, it's just all old fart CDs from local library. Plus some cool promos; thanks,
DC Rec.
! And you know what, day by day I'm becoming more like
Snake Plissken
and don't really care.
John Carpenter with Alan Howarth: 'Theme from Escape From New York
(1981)
Escape From New York trailer
"Call me Snake"
Escape From New York @ Wikipedia
+
April Fools Day Bonus Beats:
Skweee feature @ Spin magazine (Yes, it seems that's a legitimate story -- unlike this and this.)