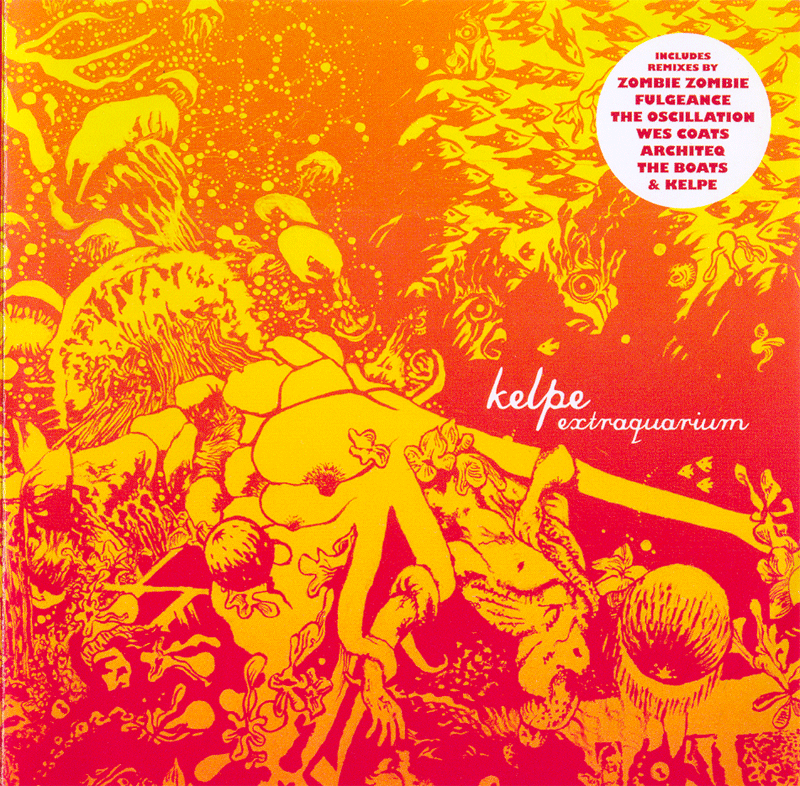 Kelpe: 'Keep Danger'
(live 2008)
More Kelpe video clips @ YouTube
DC Recordings
(UK) strikes again! On a quick listening this one features an interesting blend of post-disco,
Krautrock
rhythms with live drums, some psychedelic sounds and maybe a touch of
IDM
...
Artist:
Kelpe
Title: Extraquarium
Label: DC Recordings
Cat. No: DCR94
Format: 12" / digital download
Release Date: 6 October 2008
Tracklist:
01 Bread Machine Bred (4:38) [Zombie Zombie Remix] *
02 Shipwreck Glue (6:07) [Kelpe Extraversion] *
03 Stop Parching Yourself (4:53) [Fulgeance Booty Call Remix] *
04 Shipwreck Glue (4:49) [Wes Coats Remix] *
05 Whirlwound (5:02) [Kelpe Stormy Version] **
06 Shipwreck Glue (4:53) [Architeq Version] **
07 Colours Don't Leak (4:05) [The Boats Remix] **
08 Cut It Upwards (6:02) [The Oscillation Sub-Aquatic Version] **
* to be released on 12" vinyl & download
** to be released as download only
Credits:
Written & produced by Kel McKeown.
01: Remixed by Zombie Zombie. Zombie Zombie is Etienne Jaumet & Cosmic Neman.
02: Remixed by Kelpe. Original drums played by Kel McKeown, recorded by Jimmy Robertson at Schloss Gramophone.
Fulgeance (courtesy of Musique Large).
04: Remixed by Scotty Coats and Wes The Mes aka Wes Coats, additional guitar by Dale Hauskins.
05: Remixed by Kelpe. Original drums played and recorded by Kel McKeown at Schloss Gramophone. Guitar by Adam Richens.
06: Remixed by Architeq.
07: Remixed by The Boats.
08: Remixed by The Oscillation.
Press release notes:

The release of Kelpe's Ex-Aquarium album back in February 2008 was met with a swathe of critical acclaim and followed by a series of incendiary live shows, all of which have unquestionably informed this wondrous cast of artists and producers, who have turned their hand to remixing various album tracks with wildly different results...

Gallic synth fetishists Zombie Zombie (Versatile) take time out from their on-going live rampage to deliver their first ever remix -- a complete remake of 'Bread Machine Bred' into a brooding and endlessly building epic. Fulgeance (Musique Large) brings the sub-bass to 'Stop Parching Yourself', creating a booty-fied, dancefloor romper that slips and slides like a frogman in the shallows.

'Shipwreck Glue' gets strung out and dosed up on Californian sunshine courtesy of Wes Coats (Rong), Balearic disco energy reminiscent of Studio or Mountain Of One washing over the ping-pong staccatos of the Kelpe original. Fellow beat mongerer Architeq (Tirk) takes on the same track, adding extra crunch and swagger to this manphibian anthem.

Kelpe himself remakes 'Shipwreck Glue' and 'Whirlwound', the latter rolling and swelling with added percussive energy, the former moving into loftier tempos from the original to make a dancefloor bomb of frenzied arrhythmia.

The Boats (Moteer) bring a mellow side to proceedings, taking the lambent tones of 'Colours Don't Leak' and swaddling them in delicate cello chords and an ebbing 303. Lastly DC label mates The Oscillation divert their gaze away from the cosmos and towards the deep, adding extra weights to the already heavy 'Cut It Upwards' and taking it to deeper depths!

Watch out for Kelpe playing live dates across Europe soon! For more information check www.dcrecordings.com or http://myspace.com/kelpemusic.