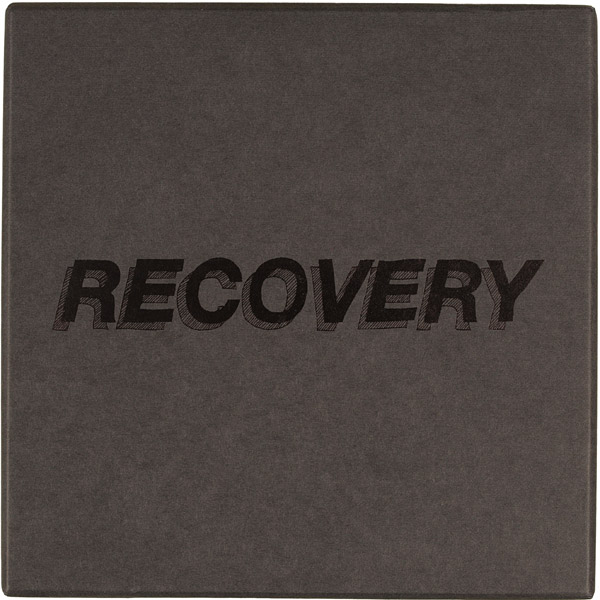 After a cover version of Pink Floyd's 'Set the Controls for the Heart of the Sun' for his
Oleva
album,
Mika Vainio
of
Pan sonic
goes on with some surprising cover choices, this time rendering a version of
'Running Up That Hill'
by
Kate Bush
(originally on her excellent 1985
Hounds of Love
album).
Artist: Various Artists
Title: Recovery
Format: 10 x 7" boxset (limited edition of 500, 45 RPM)
Cat.no: FRACT 01
Label:
Fractured Recordings
(UK)
Date: 1 September 2008
Tracklist:
1. BJ Nilsen: Heart And Soul
2. People Like Us & Ergo Phizmiz: Mull Of Kintyre
3. Christian Fennesz: Hunting High And Low
4. :zoviet*france: Bomber
4. Ryoji Ikeda: Back In Black
6. Mika Vainio: Running Up That Hill
7. Robert Henke: Lucifer
8. Susan Stenger: My Sharona
9. Jenny Hoyston's Paradise Island: Dream Tree
10. Alva Noto: Planet Rock
11. Matmos: C•30 C•60 C•90 Go
12. Barbara Morgenstern: Temptation
13. Carter Tutti: Lucifer Sam
14. Robert Lippok Featuring Caroline Thorpe: Freedom!
15. Snd: Billie Jean
16. Richard Chartier & CoH: Bleak Is My Favourite Cliché
17. Momus & Germlin: Ashes To Ashes
18. Jason Forrest: Dark Love
19. J.G. Thirlwell: Warm Leatherette
20. Jóhann Jóhannsson: Souvenir

Press release notes:

"Recovery: a collector's limited edition vinyl box set of 20 cover versions by 20 seminal electronic musicians and composers.

Release date: 1 September 2008, Fractured Recordings

Recovery is the result of an invitation to a group of leading electronic artists to create a cover version of a song from the past that holds a particular significance to them. The outcome is an extraordinary and unexpected series of tributes and appropriations of classic hits from the 70's, 80's and 90's, recorded by artists renowned for their inimitable style and seminal contribution to contemporary musical innovation. Published as a numbered limited edition of 500, this collectors' box set contains 10 double A side 7"s, alongside unique cover designs by artist Graham Dolphin.

Recovery presents new works by Richard Chartier and CoH, Fennesz, Jason Forrest, Robert Henke, Jenny Hoyston's Paradise Island, Ryoji Ikeda, Jóhann Jóhannsson, Robert Lippok feat. Caroline Thorpe, Momus and Germlin, Matmos, Barbara Morgenstern, BJNilsen, Alva Noto, People Like Us and Ergo Phizmiz, snd, Susan Stenger, J.G.Thirlwell, Carter Tutti, Mika Vainio, and :Zoviet*france:

Recovery features Ryoji Ikeda paying tribute to AC/DC with his own version of 'Back in Black', Fennesz covering A-ha's mid 80's hit 'Hunting High and Low', alva noto revisiting 'Planet Rock' by Afrika Bambataa and Robert Lippok creating a compelling version of Wham's unforgettable 'Freedom! '90'. This remarkable collection of tracks reveals the surprising and seemingly incongruous relationships that often exist between these artists' earliest musical inspirations and their own unique current practices. The project is also a genuine tribute to the tradition of vinyl, the medium upon which so many of these tracks would have originally been experienced.

The box set design by Graham Dolphin - an artist renowned for his own poignant re-appropriations of the objects and icons of the fashion and music industries - presents a unique series of covers of cover versions, incorporating playful re-workings of each of the 20 tracks' original cover designs.

Available exclusively through www.fracturedrecordings.com

Mastered by Rashad Becker at Dubplates and Mastering, Berlin."

Release info @ Discogs