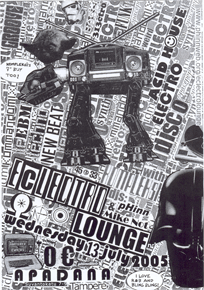 [large image]
EcLECTRO LOUNGE
#16
Wednesday 13 July 2005
2000-0200
@
Apadana
, Suvantokatu 7-9,
Tampere
free entry!
age limit 18
May the pHunk be with you!
In honour of the sweaty Bummerfest opening night,
Kompleksi
DJs
Mike Not
&
pHinn
play nu & old
electro
, IDM, techno,
Detroit
, disco, new wave, ambient, dub, synthpop, funk, acid house, old skool hiphop, EBM, new beat, spacepop, retro...
The special guest DJ:
Art Barf-Uncle (
Mental Alaska
/Avarus/Hetero Skeleton, etc.)
- the primus motor of "New Weird Finland" scene plays psychfolkkrautFinnhits80ssleazediscospacesounds! Space is the place! Weirdness guaranteed! Summer is grazy!
***
Earlier Eclectro Lounge DJ sets to be heard as MP3s at:
http://www.phinnweb.org/listen/
Kompleksi's debut 7" still available:
http://www.phinnweb.org/kompleksi/releases/
Info, flyer gallery, party pics, etc.:
http://www.phinnweb.org/eclectrolounge/
***
Forthcoming Eclectro Lounge nights:
Wednesday 27 July 2005 (guest: Alexcore, Slavic Walkmen, T:re)
***
And Kompleksi DJs Mike Not & pHinn also at UMF festival, 6 August 2005! (@ Kåren's Pub, Turku)
http://www.uudenmusiikinfestivaali.org/