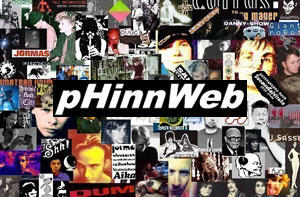 In case you checked this blog to get some no-nonsense info about Finnish electronic music, only to find some non-related weird images and pHinn's borderline rants here... Have no fear, because
pHinnWeb's mailing list at Yahoo! Groups
is exactly what you were looking for! We've got now about 525 members from all over the world, and rising. No bullshit, no weirdness, no naughtiness; just some cold facts, news and info. So, what are you waiting for -- subscribe today!

"The mailing list of pHinnWeb (http://www.phinnweb.org) concerning all topics of (pH)in(n)terest: not only electronic and non-electronic music and arts in Finland and around the world, but also visual arts, popular and fringe culture, etc. (See http://www.phinnweb.org/FAQ/ for some clues.) In English.

Possible topics: Pan sonic, Mika Vainio, Sähkö Recordings, Jimi Tenor, Mono Junk/New York City Survivors, Dum Records, Jori Hulkkonen, Vladislav Delay/Luomo, Lackluster, Ovuca, Rikos Records, Polytron, Tero, Dr. Robotnik, Itäväylä, Brothom States, Nuspirit Helsinki, Op:l Bastards/And the Lefthanded, Nu Science/Huoratron, Aavikko, Ural 13 Diktators, Mr Velcro Fastener, Imatran Voima, 8-Bit Rockers/Bangkok Impact/Putsch '79, Unidentified Sound Objects, Circle, Ektro Records, Fonal Records, Es, Kemialliset Ystävät, Avarus, Kuusumun Profeetta, Kimmo Pohjonen, Eero Koivistoinen, Love Records, Pekka Airaksinen, Sperm, Erkki Kurenniemi... and new Finnish artists and record labels; related Finnish music news; parties, events, festivals; electro, techno, house, IDM, ambient, minimal, dub, postrock, industrial, noise, jazz, improvisation and experimental/avantgarde music in Finland and elsewhere (this is not a purist list, though, so if it's of any genre and any good, it will be discussed here)... If you have any questions on any of the above, this is probably the best place to ask!

Quite a lot of traffic from time to time, so digest and no email/read messages through the Website options available too. People sending non-related ad spam will be banned immediately."