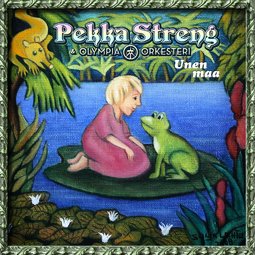 Artist: Pekka Streng & Olympia-Orkesteri
Title: Unen maa
Format: CD
Publication code: 50999 694030 2 6
ICPN number: 50999 694030 2 6
Date: 21 January 2009
Record label: EMI Finland
Tracklist:
1. Noidat ("The witches")
2. Sinua ikävöin ("I miss you")
3. Olen rakastunut ("I'm in love")
4. Olet onnellinen ("You're happy")
5. Aapeli ("Abel")
6. Metsästäjä ("The hunter")
7. Sammakko Sim ("Sim the frog")
8. Topi Jäppisen koti ("The home of Topi Jäppinen")
9. Itsemurhatalon luona ("By the suicide house")
10. Suruperhonen ("The butterfly of sorrow")
11. Keijut ("The elves")
12. Sinä aamuna ("That morning")
13. Kohtalo ("Fate")
14. Muumipeikon tassuttelu ("The treading of Moomintroll")
15. Luumupuupoika ("The plum tree boy")
Pekka Streng
(26 April 1948 - 11 April 1975) was a Finnish artist whose recorded music was a combination of folk and psychedelia with some jazzy flavour and occasional electronic experimentation. He died of cancer only two weeks before his 27th birthday, but his two albums,
Magneettimiehen kuolema
("The Death of Magnet Man", 1970) and
Kesämaa
("Summerland", 1972), have assured him a huge posthumous cult following and influential position even among those fans who hadn't been born at the time of his death. Pekka Streng's mystique is increased by the fact that he avoided publicity all his life, giving only one interview, which was published after his death in 1978.
Many artists of the current Finnish psychedelic folk/"New Weird of Finland" scene, such as Sami Sänpäkkilä of Es and Fonal Records, have openly admitted their debt to Pekka Streng. Also Sähkö Recordings' sublabel Jazzpuu re-released in 2001 as a
12"
the original and extended versions of Streng's posthumous "cult hit"
'Puutarhassa'
("In the garden"), a jazzy and bossanova-like song out of
Kesämaa
. (Though the biggest fan favourite by Pekka Streng still remains
'Sisältäni portin löysin'
, "I found a gate inside me", an esoteric-psychedelic inner journey folk excursion out of
Magneettimiehen kuolema
).
In the late 1960s Pekka Streng was an active member of Ylioppilasteatteri, Helsinki's Student Theatre, appearing among all as one of the extras of Risto Jarva's science fiction film
Ruusujen aika
(1969). 1969 was generally a busy year for Pekka Streng: his ten-part radio play adaptation of J.M. Barrie's
Peter Pan
premiered for YLE in January-February, the same year his two other radio plays were aired:
Papiljonttinainen
("The curler woman"), which was meant for children, and the psychedelic collage
Kreivi von Krolockin hymyn variaatiot
("The variations of Count von Krolock's smile"), both based on Streng's own texts and featuring also his songs. Furthermore, 1969 saw the release of Streng's first single, 'Pieni juhlija' ("A small partygoer"; out of Tove Jansson's poem), recorded with the band called Ellipsi for
Love Records
, which were also to publish Pekka Streng's two legendary albums.
The subjects of Pekka Streng's music, with its tender folk leanings, concentrate on fairy tales, Eastern mysticism and spiritualism, social criticism and so on, with a strong humanist emphasis. On his first album, Streng was backed by the musicians of the Finnish prog-rock band
Tasavallan Presidentti
, and the second -- more lavish in its jazzy orchestration -- had on it some of the best jazz and rock musicians in Finland.
Unen maa
("The land of dream") consists of the demo material meant for Streng's planned third album, which never materialized during the artist's lifetime. The earliest songs originate from the late 60s, the latest apparently from 1973 and 1974. These demo recordings have been the Streng family's property since Pekka Streng's demise in 1975. It took over three decades and an enormous amount of background work and lobbying from the admirers of the late artist (such as the journalist Suonna Kononen and documentary film director
Arto Halonen
) until Pekka Streng's son Joonia Streng, now working as a lawyer, gave green light to the publication of the material and EMI of Finland took interest.
Unen maa
has 15 previously unreleased Pekka Streng songs; two of them in their original form, the rest as versions arranged by producer Jukka Hakoköngäs and Olympia-Orkesteri out of the original monophonic reel-to-reel demos by Pekka Streng. The demo recordings featured only Streng's vocals and guitar to which Olympia-orkesteri added other instrumentation, after environmental noise had been removed from the tapes.
The sleeve art of
Unen maa
is by Sonja Lehto, Pekka Streng's sister, who also designed the covers for his
Magneettimiehen kuolema
and
Kesämaa
albums.
Arto Halonen is working on a documentary film on Pekka Streng, due autumn 2009.
Personnel on
Unen maa
:
Pekka Streng: vocals, guitar


Jukka Hakoköngäs: grand piano, "Aunt Bertha" B3, Nord Wave, Nord 2X, Prophet '08, Moog Voyager, Mopho, percussion, guitar, bass

Anssi Nykänen: drums, percussion

Jarno T. Karjalainen: bass

Timo Kämäräinen: guitars, vocals

Jukka Perko: soprano saxophone

Unen maa info in Finnish @ EMI Finland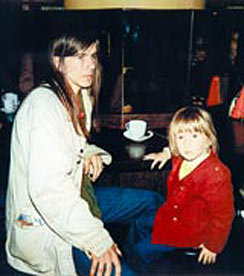 Pekka Streng with son Joonia
Pekka Streng discography @ Discogs

Articles in Finnish:


Lauluja haudan takaa @ Karjalainen

Pekka Streng audio & video links:


Pekka Streng search results @ YouTube

Additional material @ pHinnWeb: